Cool Bolo Ties
Bolo ties, seen any cool ones lately, not very likely. At DEADCOWBELTS.COM we have come to the rescue with an assortment of unusual, limited edition bolos that come in a wide range of western lifestyle and rock and roll themes. If you are into Vintage Rock, Western Swing, Alternative Country, Rockabilly or even the Blues and want to look sharp for the ladies, I'm your man. ( yes, Leonard Cohen wears a bolo tie ).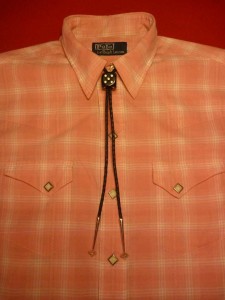 DEADCOWBELTS.COM
has created 3 distinct musical bolo ties,
The first example uses a medium sized, rounded edge, black dice that slides up and down some very high quality, black, braided 4ply leather cord and is finished off with a pair of Navajo style, solid German Silver tips from New Mexico. Very subtle, very cool and reasonably priced.
The second and third styles are made from guitar parts. One uses a Fender volume knob and their standard black, white, black format pick guard that I have circular fly cut at the same 45 degree angle as that 1954 Stratocaster that you lend to Jeff Beck on the weekends. I have also dyed some N.O.S. polyester cord black to look like the original electrical stuff and made the tips out of a pair of classic 1/4″ mono plugs.There is a German Silver clamp on the back to adjust your neck size with an optional, extra cost, Flamingo pink cord for all you hep cats that dress black on black. I know, I have the disease too! I have less than half a spool of this 1950's cord left so remember Limited Edition actually means, Limited Edition! This unique bolo tie is completely hand made by myself and the circular fly cut is the only time I use electricity in construction.
The third musical bolo tie is the same except for a black Gibson speed knob and the ultra rare, black, white, black, double white, black, pick guard material that all musicians know was made for the 1947 Gibson semi-acoustic that cats like Tal Farlow and Barney Kessel played. Same construction, same price and the extra cost, coral pink cord option is also available until I sell out. The classic western style bolo is also a DEADCOWBELTS.COM exclusive. I use some really cool vintage Silver dollars for the bling and offer a choice of either high quality, braided 4 ply, black leather cord with authentic Navajo style, German Silver tips obtained in New Mexico. Or for the same price a black, hand plaited, horse hair cord with matching knotted tassels for tips. These horse hair cords are  hand made for me in Montana using 100% American labor.
Even more interesting is the shiny stuff. I have a collection of rare animal theme silver dollars that were minted for one year only. I hand dome them, antique the edges for contrast and finish them off with a solid German Silver clasp that is hidden on the back for a slick trouble free life of looking cool. Did I say cool? Here are the fantastic coin themes starting with a highly detailed Bison skull and horns struck only in 1982.
Next is a Mountie on horseback in profile, struck only in 1972, I also have a very cool looking large Moose in profile, struck only in 1985 and finally, if you can believe it a Silver dollar struck only in 1975 featuring a rodeo cowboy trying to hang onto a bucking bronco. How cool is that!. These 4 animal bolo ties are all the same price and are my best sellers. So if you dig the western life style or country music in some form DEAD COW BELTS was thinking of you when it comes time to get dressed up.