Rockabilly Music Free | Wild Wild Baby
First of all, thanks for dropping by. Since you are here Get Your Rockabilly Music Free Songs Here: https://thenervousfellas.com/free-roc…
Watch The Video Below – Original Rockabilly "Wild Wild Baby" Performed By The Nervous Fellas
Mark Twang Presents The Nervous Fellas
"From The Other Side Of Rock'n'Roll"
Free Rockabilly Download Folks!
Get Your Rockabilly Music Free Download of "Wild Wild Baby" and 5 other songs that were recorded in 1988 in Vancouver, Canada and released on East Side Records. (out of print)
"Wild Wild Baby" was later released on a compilation CD called "Boppin In Canada" on Nervous Records (out of print)
REMIXED STORY
Mark Twang remixed these 6 Rockabilly songs from the original source to compensate for the compression when saved as an MP3 when streamed and/or played online or whatever.
Twang says "Because I got tired of the crap – no balls, sound on the video the YouTube bot makes using songs from iTunes. The Bot automatically pulls them and makes a video and then depending on the video puts ads over-top… nice EH~"
Have You Noticed These Videos on YouTube Now?
There was also a copyright claim from the YouTube bot on the video above
"Wild Wild Baby" as soon as we put it up even though it was written,
played and released by The Nervous Fellas in 1988.
Conclusion, I had to do a copyright dispute and wait 30 days to get it back. All the while they were running ads over it and would keep any earnings if the event you lose the dispute. If you win the dispute they say they give em back ( …hmmm you think?)
So besides all that…. Rockabilly Music Free Download
– please feel free to download "Wild Wild Baby" and 5 other songs
FREE for your rockabilly music listening pleasure courtesy of The Nervous Fellas
By clicking on the BIG BANNER BELOW or on the Side-Bar to the RIGHT ===>

"Wild Wild Baby" and the 3 other Nervous Fellas Original songs:
When You Cry (R.Hayward)
Same Girl (A. Black)
Night Crawler (S.Murphy)
Wild Wild Baby (M.Weldon) ALL SONGS © COPYRIGHT SOCAN
Plus 2 Classic Rockabilly songs with covers of:
Miss Pearl (Jimmy Wages)
Raging Sea ( Gene Maltais)
Nervous Fellas at that time of the release:
Ronnie Hayward on Doghouse Bass (Rockabilly Hall of Frame)
Mark Twang on Guitar
Al Black on Drums
Shaun "Butch" Murphy on Vocals
#nervous fellas
#rockabilly
#rockabilly music
#free rockabilly music
#wild wild baby
https://thenervousfellas.com/
https://youtu.be/s5T8aXUmVo8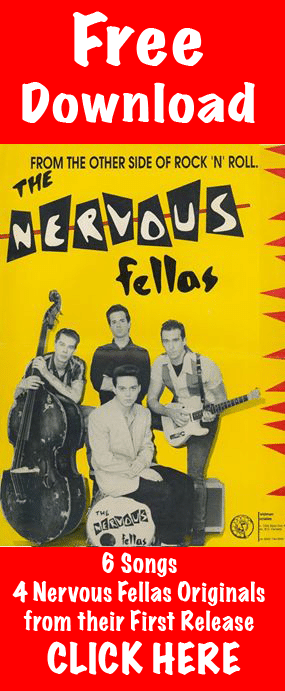 © COPYRIGHT SOCAN
Pictures/Images used in this video are all from Google Images
"Labeled for reuse with modification"
Rockabilly Music Free | Wild Wild Baby Get Your Free Songs Here: https://thenervousfellas.com/free-roc…
Save