Rockabilly Blues
The Nervous Fellas play some Rockabilly Blues with a live cover of Sam "Lightnin" Hopkin's "Finally Met My Baby"
Canadian Rockabilly band The Nervous Fellas with Mark Twang and Ronnie Hayward with the Legendary Butch Murphy on vocals playing some Rockabilly Blues on the road.
[p1vc-video]
This version was at the "Downstairs John" Pub at McMaster University "The Hammer" Hamilton, Ontario Canada. Lightnin' Hopkins has always been one of my favorite blues dudes both his acoustic and electric songs.
My guitar teacher Ronnie Copple taught some great Lightin' licks when I first started playing guitar.
So When I first met Ronnie Hayward I turned him on to many Lightnin' songs that we ended up covering through the years to follow in various bands.
Ronnie added "Finally Met My Baby" to the Fellas set list, so it was really cool when I joined the band I got a chance to play the song live with him through the years with the Nervous Fellas and we got a chance to jam on that and add my take on Lightin'!
This version of Lightnin' Hopkins "Finally Met My Baby" was later released on their LP "Born To Be Wild" on Nervous Records U.K. (out of print) with Peter Turland on Standup Bass. (see link below)
Nervous Fellas in 1988 on the video above: Butch Murphy on Vocals Ronnie Hayward on Doghouse Bass Mark Twang on Guitar Al Davie on Drums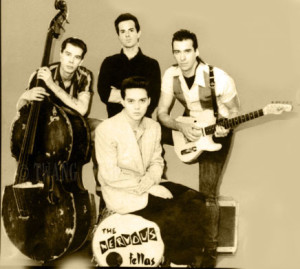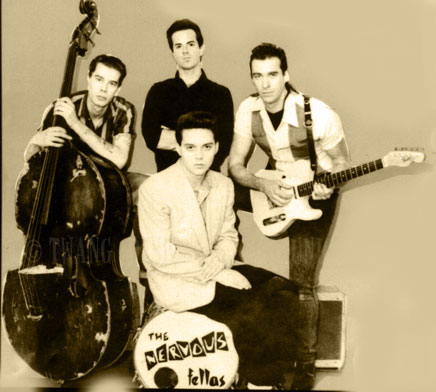 Special thanks to Brother Twang Doug "Cool Fool" Carter for shooting the whole night for us. dougcarter.typepad.com
Also check out Mark Twang at: marktwanglive.com
Listen to a studio version of the song here : Finally Met My Baby by The Nervous Fellas with Pete Turland playing Doghouse bass on this studio cut from 1990 along with John Hansen on Drums with Murphy and Twang